Predictive Maintenance Solutions
PredictAlert
PredictAlert is a turnkey predictive maintenance solution that alerts on the status of your operating machines.
Prevent failures, reduce downtime, and save money with our powerful wireless sensor that monitors motors, compressors, pumps, and more.
It's easy to use and install, and provides advance measurement of vibration on 3 axis as well as temperature monitoring.
ISO10816-3 compliant trending and alarming is included as standard or you can set up your own custom alarm notification points.
Other sensors including oil particle monitors can also be integrated to provide peace of mind and to help you pinpoint problems before they cause downtime.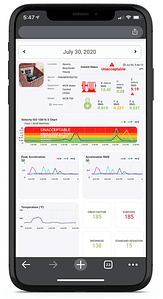 Need help with
Predictive Maintenance ?