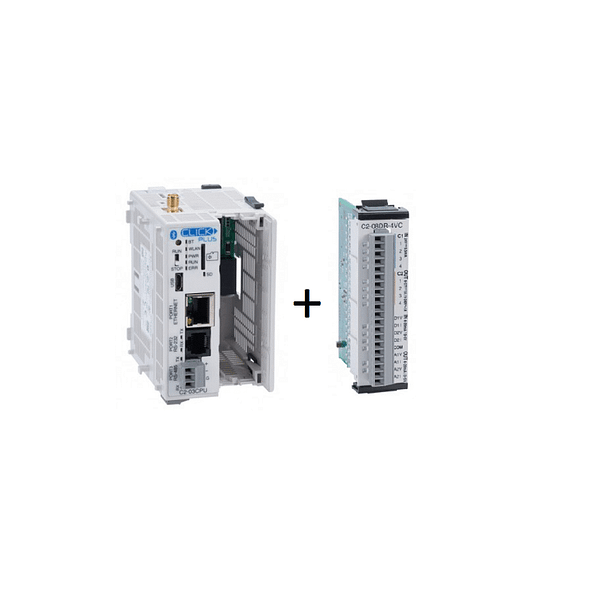 Koyo CLICK PLC Starter with 2 x Analog Inputs, 2 x Analog Outputs, 4 x Digital Inputs, 4 x Digital Outputs **Hardware Only
$594.00 Plus GST
2 in stock
Description
Sometimes you need more advanced control.  The normal way to do this is with a PLC (Programmable Logic Controller) and in the past this coud easily come at a starting price in the thousands of dollars.  Times have changed and the new generation of controllers offers reliable real time control at an affordable price.
Koyo has been in the PLC game for years, and their Click range of small PLCs offers incredible reliability and capabilities that cost many times more in the other brands.  We have used these PLCs in some truly horrible environments and they just keep on working.  The best thing is that the latest version of these work-horses will communicate natively with the same low cost web based Application that we use for wireless sensors.
Setup:
All PLCs need to be programmed to do their job, and this one is no exception – that's where we come in.  Our personnel have been responsible for the development and implementation of PLC and SCADA systems on some of the largest projects in the country.  Talk to us about your requirements.
Features:
Powered by a user supplied 24VDC power supply.
Wi-Fi Capability.
MQTT / RS232 / RS485 / Ethernet Communication.
Data Logging.
Mobile Access.
Analog Input: 2-Channel (Current / Voltage).
Analog Output: 2-Channel (Current / Voltage).
Discrete Input: 4-Point, Sinking / Sourcing.
Discrete Output: 4-Point, Relay, (4) Form A (SPST) Relays.
Install and Additional 8 Input and Output Modules for larger applications.
Applications:
Smaller Automation Projects
Pumping & Irrigation
Silo Management
Process Plants
Water Treatment